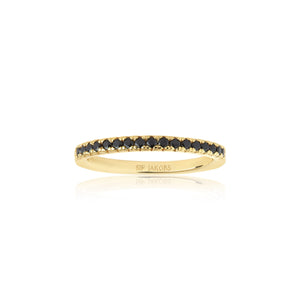 Ellera Gold Ring - 18 Carat Gold Plate & Black Zirconia by Sif Jakobs.
The Ellera Gold Ring is made from 18 carat plated 925 sterling silver and facet-cut, polished surface black zirconia. The gold and black is an enchanting combination and this band may be thin but it is still very striking. We just love the combination of the delicate gold settings and dramatic black zirconia. We have a number of Sif Jakob pieces using the same metal and stone styles that would really compliment this special ring, so take a peek.
As with the whole Sif Jakobs collection, this ring comes beautifully packaged and would make a charming gift. You can learn more about the Sif Jakobs brand and why we handpicked this unique Copenhagen-based brand to be a part of our carefully curated Gerry Summers Jewellery offering by clicking here.
WIDTH: 2 mm (thickness)
SIZE:  Size "54" is available in this style - but we can order your preferred size (50 - 60). Select the 'Other - we'll contact you' option from the dropdown and we will contact you to discuss and then will source your size for you.
CARE: Pour a small quantity of PH-neutral soap into some lukewarm water and use a small, soft bristle brush to clean the jewellery. A soft bristle brush is ideal for cleaning jewellery with patterns, which can other­wise be difficult to clean. If the dirt is hard to remove, soak the jewellery in clean water. When you aren't wearing your jewellery, we recommend keeping it safely in it's original packaging to protect it.
Product code: SJ-R2869-BK-YG