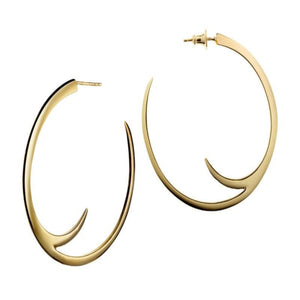 Large Gold Cat Claw Hoop Earrings by Shaun Leane.
An oversized and sculptural silhouette. Shaun Leane's interpretation of the essential hoop earring is elegance with an edge. Crafted in yellow gold vermeil, this cat claw statement hoop earring is a perfect day to evening piece.
We were instantly enchanted by the inventive Shaun Leane twist on a classic hoop earring. These are a stunning example of the quality and design ingenuity, that is the signature of Shaun's work. We love how Shaun takes inspiration from so many sources. You certainly don't need to be a cat-lover to fall in love with these beautiful hoop earrings, that are also available in sterling silver. 
Read more about why we handpicked this prestigious British brand to be a part of our carefully curated Gerry Summers Jewellery offering, by clicking here.
SIZE: Width 46 mm x Drop 45 mm
CARE: Gently wipe the surface of your jewellery with a silver or gold polishing cloth, taking care not to wipe any pearls. Avoid commercial liquid polish or "dips". Keep your jewellery in individual pouches or within soft lined boxes. Remove rings when washing hands or moisturising, gardening, doing DIY, cleaning, swimming, and exercise.