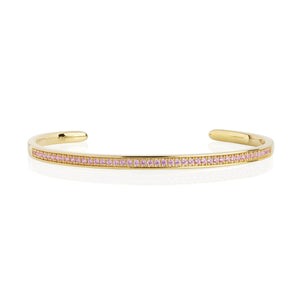 The Valiano Bangle - 18 Carat Gold Plate & Pink Zirconia by Sif Jakobs.
This beautiful bangle is made from 18 carat yellow gold plated 925 sterling silver. The top side of the bracelet bangle features facet cut pretty pink zirconia. The bangle is open and therefore easy to adjust to most wrist sizes. We love the blush pink colour and gold combination - it would look fabulous worn alone or alongside other bracelets and bangles.
As with the whole Sif Jakobs collection; our bracelets comes beautifully packaged and would make a charming gift. You can learn more about the Sif Jakobs brand and why we handpicked this unique Copenhagen-based brand to be a part of our carefully curated Gerry Summers Jewellery offering, by clicking here.

SIZE: Width 3.5 mm / adjustable sizing so one size fits all
CARE: Pour a small quantity of PH-neutral soap into some lukewarm water and use a small, soft bristle brush to clean the jewellery. A soft bristle brush is ideal for cleaning jewellery with patterns, which can other­wise be difficult to clean. If the dirt is hard to remove, soak the jewellery in clean water. When you aren't wearing your jewellery, we recommend keeping it safely in it's original packaging to protect it.
SJ-BG009-XCZ